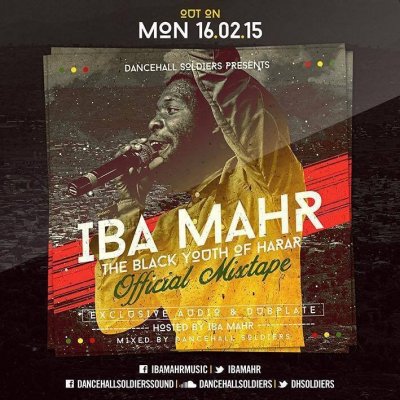 DANCEHALL SOLDIERS proudly presents:
IBA MAHR
"The Black youth of Harar"
Official mixtape
Out NOW on:
https://soundcloud.com/dancehallsoldiers/dancehall-soldiers-presents-iba-mahr-official-mixtape
Mastered by Stanislao "SpikE" Costabile
After performing at Sting 2014, Rebel Salute and his latest tour in the US, Mario Greaves aka Iba MaHr confirms himself as one of the best new sensations artist in the reggae scene. Since his first release with Max Romeo's Charmax Music, the Black Youth of Harar has broadcast many lovers rock and spiritual reggae tunes: his biggest hit "Diamond Sox" that has been an instant success all around the world and the latest "Mama Rosie", an emotional song dedicated to his Mother. In 2015 the debut album "Glory of the King" will be released for VP Records. Dancehall Soldiers is really proud to present "Iba MaHr the Black Youth of Harar"official mixtape, which includes exclusive unreleased audio & dubplates.
BIOGRAPHIES:
IBA MAHR, the young sensation for authentic Jamaican reggae/ lover's rock genre. Born January 21, to Ms. Roselin Embden and Mr. Glendon Greaves, he was given the name Mario Greaves at birth but has emerged with strong African culture, thus granted the name by friends, Iba MaHr, 'Iba' African name, meaning Humble and Calm while 'MaHr' is really an acronym, meaning Mario of Harar, Harar which is a small province in Ethiopia.
As a toddler, Iba MaHr was nurtured by his grandparents, Mrs. Joycelyn Greaves and Mr. Vincent Greaves in the Community of Cheesefield. Always being in the centre of attraction, every Sunday evening Iba MaHr would dance to his grandfather's stereogram, playing hits from the 70's, while singing to each song as if they were of his era. It was not until he was successful in his Common Entrance Exam to go on to High School that he moved to reside in Linstead with his mother. Being the only child for Ms. Roselin, iba was the main priority, with morality and education as her advocacy, leaving very little things undone if any. Now the youngman chants from a small town in the parish of St. Catherine called Linstead, that is most popular for the famous "Linstead Market" and the Song titled, "carry mi ackee go Linstead Market".
After completing secondary education at Charlemont High and sixth form at Dinthill Technnical High, Iba went on to study a Bachelors Degree in Computing and Management Studies at the University of Technology. Even though he had the ability to write songs since going to high school, it was only while in University his peers pushed him to perform his own words.
In 2008, Max 'Romeo' Smith of CHARMAX MUSIC released his first song, "HAD IT & LOST IT", for a various artiste album titled, "DEVIL ON DI RUN". Later, Phillip 'Fatis' Burrell of XTERMINATOR PRODUCTIONS released his second single, "WHERE YOU ARE". The young sound has also work with great producers and record labels such as, UIM Records, Marlon McCubbin, Bizzarri Records, Jermaine "Lenky" Edwards and more recent Roland "Rollie" McDermot of Rollins Records.
"I take pleasure in doing love songs. Essentially, I am inspired to sing about real life occurrences, but in reality as artiste we create melodies then connect words to them to craft stories that reflect other people's lives. The energy, mood and my emotion at times may affect how a song might turn out. Feelings, be the sombre, joyful or sorrow also play a part. I now see the music making a paradigm shift from roots and culture, not that it has died but just need to be played more. Regardless of what is being played, the people need redemption songs, especially in these times of division and world crisis. I can only say that Reggae music is a medium through which we connect and touch people in any situation, so I work to preserve its legacy", said Iba MaHr.
The artiste was able to survive the many dangers and harm of his volatile community through advocating love, peace, righteousness and spiritual consciousness. As his name represent, he is quite humble, and does not let anything or anyone trouble his innate calm. With Rastafari as his inspiration, roots and culture is always what he promotes, along with social commentary and soulful-reggae love songs that speaks out to the hearts of people, those in love or out of love. Iba MaHr's music ranges from reggae, lovers rock and soulful roots genre.
Give heed to the voice, message, and what reggae music has to offer in the future
DANCEHALL SOLDIERS was born in November 2003 in Rome.
Soon after becomes popular in the Italian Sounds thanks to the ability of Rosco as a DJ and the creativity of Peppe at the mic.
With a meteoric speed soon become popular in the main community centres of the capital like
Villaggio Globale, Intifada, La Strada and many others. They play also in the most popular Reggae Club of Rome., namely Brancaleone, 360°, Mads.
proposing a refreshing style that goes from Foundation to Bashment. They played longside Rodigan, LP International, Pow Pow, Supersonic, Gramigna, One Love hp, Poison Dart US, Sentinel, Jugglerz, Herbalize It, Black Chiney, Warrior Sound, Boom da Bash, Mad Kid, Heavy Hammer.
They had also open concert for Capleton, Busy Signal, Tony Rebel, Warrior King, Skatalites, Gappy Ranks, Konshens and many more.
As word spreads around they were called to perform all over Europe from Germany to England, Switzerland, Spain as well as all over Italy.
For five consecutive years ,every Monday and Tuesday, they host their own reggae radio show Roots, Reality & Culture, in the Air on 88.9 of Radio Città Aperta which soon has a huge nationwide following.
Soon their passion for the Reggae incentivised them to "cut" some excellent dubplates. And in January 2006 arrived their first success in a soundclash vs Bashfire from Perugia, in an event organised by One Love HP.
In August 2008 they hit the jackpot again in a memorable soundclash in Catanzaro vs Kalibandulu, in the 2nd edition of "Kill or be killed".
In 2010 they measure themselves vs City Lock, winners of the Riddim Clash 2k9.
In June 2011 they take part in "Place of Death European Soundclash" at the famous Wuppertal U Club, in Germany. In this same club Dancehall Soldiers take part also at "Who runs the town", in June 2013, against
Black Chiney, Jugglerz, Supersonic & Herbalize It.
Dancehall Soldiers for four years helped creating the Bash Fever Yard, together with Macro Marco, Yaga Yaga, Big Bamboo & Frisco, at the Zoo Bar of Rome. This in very short time became a huge success hosting popular artist from the most disparate parts of the globe.
They also produced various mixtape which are available for free download from
www.soundcloud.com/dancehallsoldiers
---
Other posts