Wholesale and retail worldwide shipping : LIVITYCREATIONS@GMAIL.COM 
FOR ORDERS , SALE AND PRICE SEND A MESSAGE TO livitycreations@gmail.com
or visit our Facebook page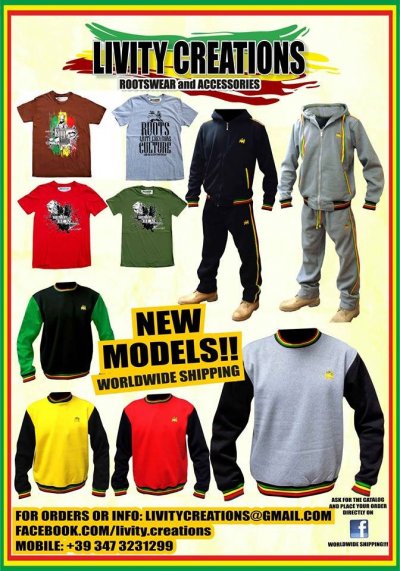 DESCRIZIONE LIVITY: ENG - IT - ESP - FRA
 ►► ENGLISH
GREETINGS TO ONE AND ALL!!
Livity Creations produces and distributes clothing inspired from Rastafari, Black music and African Culture.
Clothing for all seasons with attention to styles of models and quality of materials.
Also if you are a singer,a band or a sound system we can produce your own merchandising or your album cover...
We sell retail and wholesale...WORLDWIDE SHIPPING
have a look at our stuff, catch the vibe and if there is something you are interested in YOU CAN ORDER DIRECTLY HERE through Facebook, or using our email address LIVITYCREATIONS@GMAIL.COM ...or if you prefere call 0039 3473231299 .
Just let us know the items using the model name, link or by attaching a photo and the size and colour. We will get back to you with prices and shipping costs.
It's also possible to receive the "LIVITY CREATIONS Complete Catalogue" in your email... just contact us and we'll send it to you !!
Thanks
Bless UP!!!
LIVITY CREATIONS CLOTHING AND ACCESSORIES
perugia, italy
livitycreations@gmail.com 
Facebook Official Page
www.facebook.com/livity.creations
mobile 0039 3473231299
►► ITALIANO 
Livity Creations produce e distribuisce abbigliamento e accessori ispirati allo stile di vita Rastafari, alla Reggae music, Black Music e African Culture.
Capi per tutte le stagioni con attenzione allo stile dei modelli e qualità dei materiali.
Inoltre se sei un Singer, Dj o avete una Band o un Sound System, possiamo produrre il vostro merchandising personalizzato o la copertina del vostro album...
Vendiamo all'ingrosso e al dettaglio con.. SPEDIZIONI IN TUTTO IL MONDO!!
Vi invitiamo a dare un'occhiata ai nostri modelli, se c'è qualcosa che vi interessa 
è possibile ORDINARE TUTTI I NOSTRI PRODOTTI DIRETTAMENTE QUI da facebook o scrivendo a LIVITYCREATIONS@GMAIL.COM
Basta indicarci il nome o codice del modello ( o allegare il link), la taglia ed il colore...noi vi rispondiamo subito con prezzi e disponibilità.
E' inoltre possibile ricevere il "LIVITY CREATIONS Catalogo Completo" direttamente nella vostra email... contattateci e ve lo mandiamo subito!
Thanks
Bless UP !!
LIVITY CREATIONS CLOTHING AND ACCESSORIES
Perugia, italy
livitycreations@gmail.com 
Pagina ufficiale Facebook
www.facebook.com/livity.creations
mobile 0039 3473231299