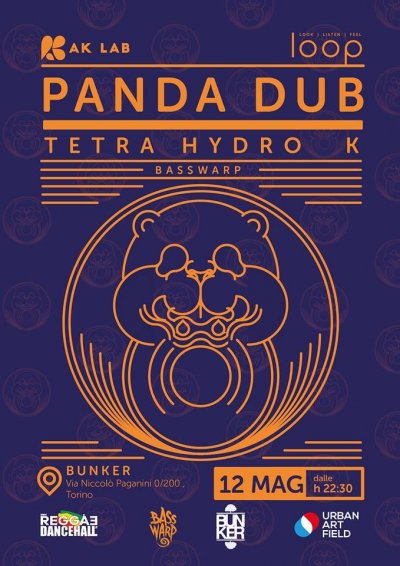 Venerdi 12 maggio 2017
PANDA DUB al Bunker di Torino
AK LAB e REGGAE DANCEHALL
Con l'uscita del nuovo album "Shapes and Shadows" Panda Dub, ritorna a Torino con nuove sonorità e bassi potenti.
Sarà il Bunker ad ospitare il producer francese che insieme a Tetra Hydro K infiammeranno il dancefloor di via Paganini.
Insieme alla BASSWARP, il LOOP continuerà la sua indagine sui legami tra visual e project mapping, sempre a cura di Lumen in frame, e la migliore musica underground europea.
LINE UP:
Panda Dub (FR)
Tetra Hydro K (FR)
BASSWARP crew (IT)
Erro & Pix + Mr Tojo
Visual and Project mapping
LUMEN IN FRAME
Scenografie a street art
Urban Art Field
TICKET AT DOOR : 10€
apertura cancelli ore 22.30
Show 23.30 - 05.00
Bunker
www.variantebunker.com
via Nicolò Paganini, 1 0/200
10154 Torino
Per maggiori informazioni
info@alternativekarming.com
www.alternativekarming.com
POWERED BY : AK LAB  e REGGAE DANCEHALL
vedi  ----> EVENTO FACEBOOK
PANDA DUB - SHADOW & SHAPES
NEW ALBUM 01.03.17 ODG Prod.