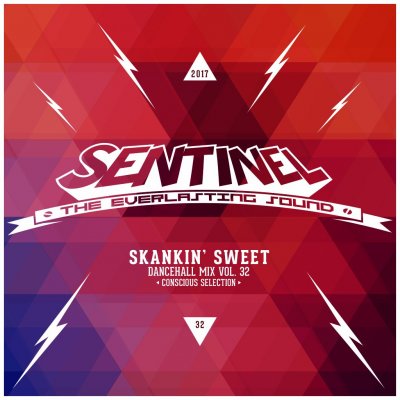 Sentinel presents: Dancehall Mix Vol. 32 - Conscious Selection – Skankin' Sweet
You can't seperate Reggae and Dancehall from one another – they have always been two sides of the same medal.
However it's a fact, that ,for the last few years, Dancehall has been dominating the parties, the charts, and the radio stations.
That is also the reason why Sentinel put their famous Conscious Selection" mixtape on pause for a year.
Right now, with a bigger pool ofsongs to choose from, the crew from Stuttgart released a brandnew One Drop version of their "Dancehall Mix" series, called "Skankin' Sweet".
The superb title track by Modern Roots superstar Chronixx is part of a formidable selection of Roots-, Lovers- and Reality-tunes by artists such as the legendary crooner Jah Cure or the highly talented newcomer Mortimer.
The 32nd edition of the "Dancehall Mix" is a great example of the immortality of classic Reggae music, but it's also a reminder, that, in our hype-addicted world, great music doesn't always get the recognition it deserves.
So if you also think, that it's time for Reggae to get some of that limelight again:
This is a mixtape, you should download!
Enjoy
--> FREE DOWNLOAD
---
Other posts